February 22, 2019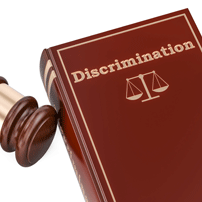 Work can be challenging enough without the added difficulty of discrimination. The New Jersey Law Against Discrimination (NJLAD) is a statute that protects employees from discrimination in the workplace based on their race, religion, disability, sex, gender, age, ancestry, nationality, marital status, familial status, sexual orientation, military service, or genetic information. It is considered one of the broadest and far reaching civil rights statutes in the country.
An employer is prohibited from taking any actions based on discrimination, such as hiring, firing, compensation, terms of employment, and retirement. This is similar to Title VII of the Civil Rights Act of 1964, the Pregnancy Discrimination Act, the Age Discrimination in Employment Act of 1967, the Equal Pay Act of 1963, and the Americans with Disabilities Act.
Retaliation is Also Prohibited
In addition to discrimination, another issue that occurs in the workplace is retaliation. As a whistleblower, you are afforded protection under the law.
Retaliation occurs when an adverse employment action, such as suspension, termination, or demotion, is due to an individual reporting the discrimination or harassment inflicted upon them. For instance, if an individual is fired after reporting that she was discriminated against for being a Muslim, then she may file a claim of retaliation under the NJLAD.
In addition to the workplace, the NJLAD also prohibits discrimination in housing, places of public accommodation, and in credit and business contracts. However, it is important to note that not all bases for discrimination are protected in these areas. When it comes to places of public accommodation, reasonable modifications to policies and procedures must be made to provide people with disabilities access to public places. These accommodations can be include changing the physical layout of a space to ensure that people with disabilities have an accessible path to travel.
Cherry Hill Employment Lawyers at Sidney L. Gold & Associates, P.C. Help Those Discriminated Against in the Workplace
If you or a loved one has been subjected to discrimination in the workplace, it can be emotionally and mentally harmful. You deserve to work in an environment free from discrimination. At Sidney L. Gold & Associates, P.C., our Cherry Hill employment lawyers will fight to get you what you deserve. For a free consultation, contact us online or call us at 215-569-1999 today. Located in Pennsauken, New Jersey, we proudly serve clients from the surrounding areas.